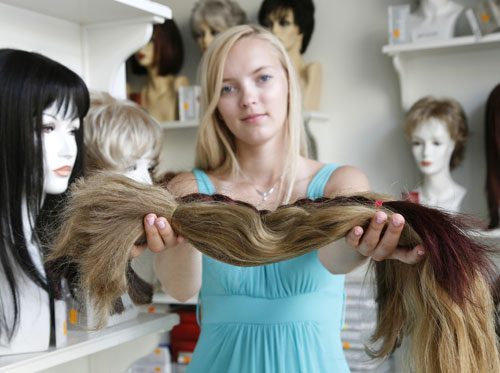 Since we believe that our custom made wigs for women are only as good as the raw materials that are used, we go to great lengths and travel extensively to seek out the best, silkiest, healthiest hair for our natural look wigs. Our custom wigs are all made with the finest European hair. Each bunch of hair is painstakingly selected so that only the richest browns, the warmest blonds and the fieriest reds go into our specially designed wigs for women. For curly wigs we only use naturally curly hair.
The nets we use for our made to order wig designs are feather-light and stretchy, especially designed to hug the contours of your head and fit like a second skin.
If you bypass our stock and would like a wig made especially for you, you will be invited in for a measuring session, where our wigmaker will measure the dimensions of your scalp and take down details of your preferences in length, colour, style and texture. Often, clients like to give a small sample of their hair, and we will try to match it as exactly as possible to their own. Each wig is handmade, with experienced wigmakers securing one or more hair strands at a time, to the lace base. The knotting technique creates a multi-directional hairstyling, with a natural hair flow. Knots are lightened for a realistic looking "scalp". Each wig takes over thirty hours of labor to complete
Once the wig is complete you are invited to come in for a fitting to ensure the net fits and the colour is spot-on. The wig is then cut and styled on your head, as if you were getting a haircut at your stylist.
All that remains is a blow-dry and styling and you're ready to go! Before you leave however, we will run you through the process of putting on your wig and will instruct you for as long as it takes until you can put on and take off your own custom wig with confidence.
Sometimes customers come to us with a particular request: a wig that is unusually long, an extremely lightweight wig, a wig that is entirely grey, a 'piece' made to cover part of your head and blend into your own hair, a wig-top permanently attached to a hair band, a wig for a particularly small head or irregular low hairline- the list is endless.
You Dream it- We create it!
Our uniqueness means you won't be answered with 'sorry, that's not in our catalogue', or 'we don't do that sort of thing'. Where others see a problem, we see a challenge and more often than not, we can find solutions to surprise you.